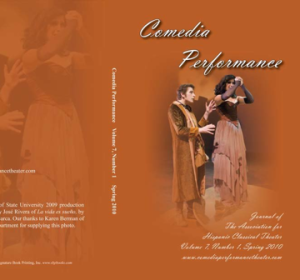 Comedia Performance is the journal of the Association for Hispanic Classical Theater, an organization devoted to the study of the comedia and other forms of early modern Spanish theater. Comedia Performance publishes articles on diverse aspects of performance of the Spanish comedia and other theatrical forms. Appropriate subjects for articles include, but are not limited to, historical or modern staging of the comedia, translating the comedia for the stage, performance theory, textual issues pertaining to performance, historical issues such as audience composition, corral design, costuming, blocking, set design, and spectator response. Comedia Performance does not publish text-based literary studies.
Comedia Performance publishes interviews with directors and actors, theater reviews and book reviews in special sections.
Click links at the bottom of this page for the full digital text of the volumes !
To subscribe to the journal or to renew your subscription, click here.
You may choose to purchase volumes if you prefer by using the Paypal buttons below.