The AHCT Annual Spanish Golden Age Theater Symposium
April 11–13, 2019
Hilton Garden Inn, El Paso.
Keynote Speaker: Ignacio García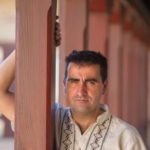 Ignacio García received his Licentiate degree in stage direction from the Real Escuela Superior de Arte Dramático of Madrid (RESAD). Among the honors and awards he has won are the José Luis Alonso prize for young directors bestowed by the Association of Stage Directors of Spain, and the first competition of theatrical stage creation organized by the Teatro Real of Madrid. From 2004 to 2009 he was Assistant to Artistic Direction of the Teatro Español of Madrid. Currently, in addition to serving as the program director of the Festival Dramafest de México, which concentrates on modern theater, he is director of the Almagro Festival Internacional de Teatro Clásico.
From the beginning of his career, Ignacio García has worked for diffusion and knowledge of the theater of Spain's Golden Age, as well as dissemination and production of Spanish lyrical theater, including the zarzuela, throughout the world. He has directed works by major authors and composers, both classical and modern, in theaters and in festivals in India, Thailand, China, Japan, Australia, Poland, Holland, UK, USA, Russia, Italy, Portugal, Greece, Switzerland, Finland, and has maintained constant collaborations with Colombia, Peru, Argentina, and, especially, Mexico.
Ignacio García has combined his work as stage director with pedagogical efforts, offering courses, seminars, and master classes throughout Europe and America, and has served as professor of the Escuela de Arte Dramático de Valladolid, the Accademia della Belle Arti Santa Giulia de Brescia (Italy), and Bande a Part School of Cinema (Barcelona).
Siglo de Oro Drama Festival & Symposium Information
The conference dates coincide with the world's longest-running Spanish Golden Age theater festival, the Siglo de Oro Drama Festival at the Chamizal National Memorial, April 10–13, 2019. The AHCT provides conference attendees tickets and transportation to and from the Chamizal each evening to attend the plays. The AHCT Symposium's activities will begin with sponsored bus transportation to the Chamizal Theatre for the performance on Wednesday evening (April 10), followed by a roundtable discussion with the play's actors/director. For information and updates on the plays to be performed at the Siglo de Oro Festival, please check (http://www.los-paisanos-chamizal.com/about-the-festival.html).
Our Symposium sessions will be scheduled between the morning of Thursday April 11 and the afternoon of Saturday April 13. The Symposium ends with a Saturday banquet, evening performance, and roundtable discussion.
Housing
The Symposium will once again take place at the Hilton Garden Inn El Paso/ University, 111 West University Avenue, El Paso, 79902. A special conference rate of $115 is available to participants that reserve by March 16, 2019; the rate applies to single/double/triple/ quad rooms, and includes a hot buffet breakfast for up to two people per room (request breakfast coupons at reception desk upon check-in). All rates are subject to a 17.5% tax. Parking is complimentary. The group rate applies Monday, April 8 through Saturday, April 13, 2019. Reservations may be made online at www.elpaso.stayhgi.com (the group rate code is "AHCT"), or by calling the hotel directly at 1-915-351-2121. (Rooms that have not been reserved by the cutoff date will be released and the best rate available will apply.)
Registration
You must be a member of the AHCT to register for the conference. Current membership dues are $65 (or $120 for two years) for faculty and $55 (or $100 for two years) for retired members and students.
To JOIN or RENEW, go to our members' area at:
http://ahct.echapters.com/join.php
The registration fee for the conference for all faculty attendees as well as for graduate students who are reading papers or participating in a special session is $125. A late fee of $50 is assessed if registration is paid after March 1, 2019; if registration is not paid in full by March 15, 2019, the participant will be dropped from the program.
Registration includes conference attendance, the AHCT annual banquet, transportation to and from the Chamizal Wednesday through Saturday evenings for the Drama Festival, and the Friday evening post-performance reception. (Note: a special registration rate of $40 applies to students who do not present papers or attend the banquet. An additional $25 payable at the time of registration purchases tickets for the banquet. The aforementioned late fee also applies to auditor registration.)
---
We wish to thank our supporting institutions.