Call for Papers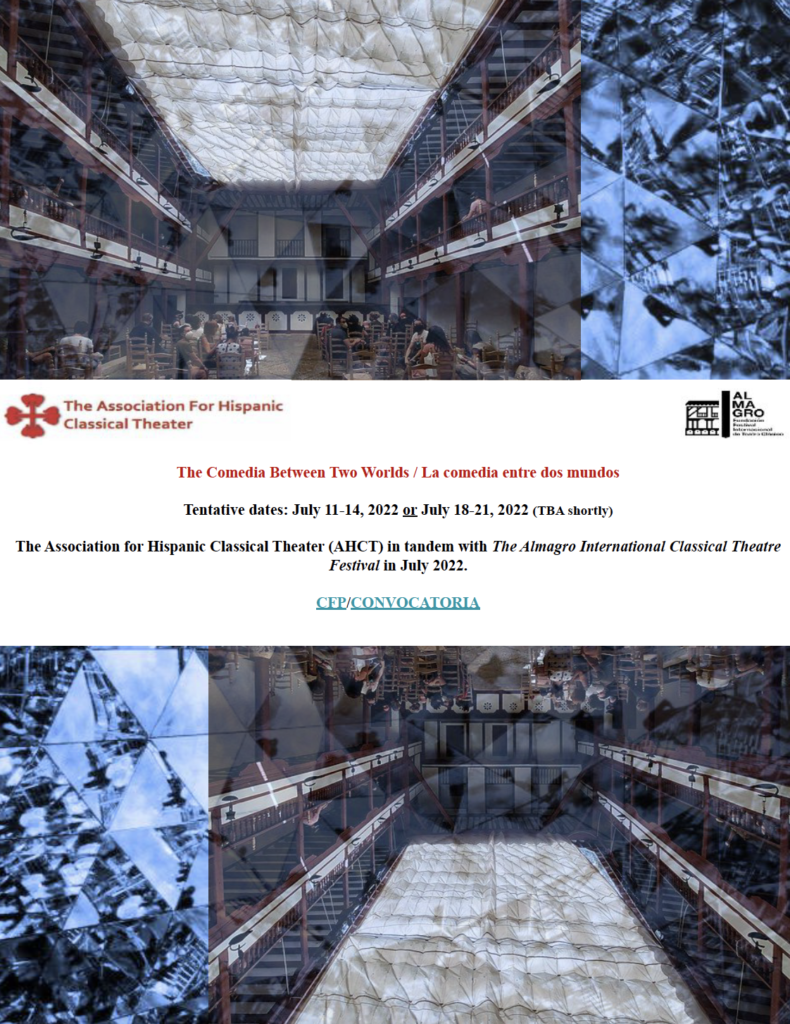 2022 AHCT Almagro Symposium
The Comedia Between Two Worlds/ La comedia entre dos mundos
Tentative dates: July 11-14, 2022 or July 18-21, 2022 (TBA shortly)
The Association for Hispanic Classical Theater (AHCT) invites submissions for a symposium taking place in tandem with The Almagro International Classical Theatre Festival in July 2022.
For next year's conference we will hold a traditional-style symposium. Nonetheless, presentations will be limited to 15 minutes papers to allow ample time for discussion.
In this globalized era in which we live, thinking about the comedia straddling two "worlds" invokes an infinite number of critical possibilities that can open new ways to approach a genre with a complex ideological charge. By "worlds" we refer not only literally to geographical locations but also to broader and more abstract and metaphorical ideologies. It is specifically that liminal position embraced by sixteenth- and seventeenth-century Hispanic theater that continues to make it surprisingly suggestive in our present times.
With this in mind, we invite contributions that studies the comedia and its performance/staging from dualities or "worlds" that are or seem to be in contradiction. To cite a few examples, these may be: different geographical spaces or continents, historical moments, social ideologies, cultural trends, religious beliefs, or theoretical and aesthetic approaches.
Submission of proposals:
Abstracts should not exceed 300 words, including name and institutional affiliation.
To submit an abstract, visit this LINK and fill out an abstract submission form.
The deadline for receipt of all submissions (abstracts and graduate student papers) is December 15th, 2021, without exception. There will be no extension of deadline for this conference, so that we may evaluate the submissions over the winter break. We will notify participants by January 30, 2022.
Graduate students: For all graduate students, abstracts are due December 15th, 2021. Full papers will only be required in the following situations:
If you want to be considered for the Hesse Award for Best Graduate Essay,
If you want to be considered for the Hesse Registration Awards,
If you would like to have a member of the AHCT give you feedback on your paper.
** If any of the above apply to you, please submit an abstract within the regular deadline and your full paper by February 15, 2022 with the heading "AHCT GRADUATE SUBMISSION" to Judith Caballero at cabalj@millsaps.edu. Please remember that essays should be between 8 and 9 pages in length (not including the works-cited page).
The conference committee will facilitate purchasing of tickets for the performances at a special discounted price.
Questions can be sent to: Esther Fernández (ef14@rice.edu)
Conference presenters must be members of The Association for Hispanic Classical Theater http://www.wordpress.comedias.org/